Children & young peoples mental health provides a range of clinical and non-clinical services in both the community and in hospital. Services are available 8.30am to 5.00pm, Monday to Friday and include:
Prevention & early intervention
COPMI (Children of Parents with a Mental Illness)
Parenting
Perinatal & Infant Mental Health (PIMH)
School Link – a partnership between NSW Health and NSW Department of Education & Communities that promotes emotional well-being in school communities
Talking to children about COVID-19

COVID-19 and My Family (10 MB)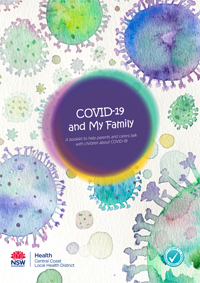 This booklet has a number of themes and messages that can be discussed with children.
These will suit more children of different ages and capacity between 4-9 years of age.
All adults should be ready to 'chat' with children when they give a cue that they have a question about the current situation.
Please read and reflect on the key messages before opening up a 'chat' with a child.
Young People & Early Psychosis Intervention (YPPI)
Provides specialist intensive case management and support for young people aged 12 to 24 years with early/first episode psychosis.
Youth Mental Health team (YMH)
Provides intensive case management and support for young people aged 12 to 18 years with a range of mental health problems (other than psychosis).
headspace
Located in the Gateway Centre, Level 2, 237 Mann St, Gosford, headspace Gosford provides young people (aged 12 to 25yrs) early access to a range of health and other services.
Phone: 02 4304 7870
headspace location map

headspace Gosford flyer (219 KB)
Through its centres located around Australia, headspace aims to make finding help as easy as possible. Once a young person walks through the door of a headspace centre, he or she will find youth-friendly health professionals who treat them with respect.