Carers told us that supporting the person they care for during a hospital admission can be overwhelming and exhausting and many found it difficult to find a quiet place where they could take a break from the bedside.
The Carer Retreat provides a place for carers to relax and re-energise. Here you will find:
Privacy
A place to re-energise
A place to go (to eat your lunch/time out/information gathering)
Free phone and Internet access
Information
Diversion from daily routine.
You are only a phone call away if you are needed back on the ward. Let the ward know that you can be contacted at the Carer Retreat on extension 5556.
Opening hours
The Retreat is open Monday to Friday from 9am to 4.30pm (excluding public holidays).
Getting here
The Retreat is conveniently located across the road from Gosford Hospital at 91 Holden Street. It is a short walk from the front of the hospital and the multistorey car park.

 Carer Retreat Walking Map (748 KB) 
Carer Retreat map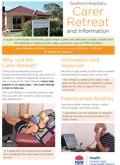 Carer retreat brochure (774 KB)
The retreat offers access to a phone, computer, photocopier, internet, etc. Information is also available to assist you in your caring role, and to support your wellbeing.