​​Carer Support Unit and Carer Retreat​
91 Holden Street, Gosford (across the road from Gosford Hospital).
Contact Carer Support 02 4320 5556
Postal: PO Box 361, Gosford NSW 2250
Fax: 02 4320 5555
Email: CCLHD-CSUCC@health.nsw.gov.au
​Carer Support is committed to promoting carers as valued and respected partners in care.
We achieve this by educating and supporting health staff to identify and consult with carers, and to recognise carer expertise.
We aim to provide timely and accurate information to enhance carer knowledge and well-being and develop and promote projects designed to identify carers and give them a voice as key partners in health care delivery.
Carer Video
Introduction: This video highlights some of the key messages from experienced carers to others in a caring role.  We thank the carers for volunteering their time to inform and produce the video and we welcome their expertise. Let us know what you think.
Brochure
Our brochure Carers "need to know" Information provides an overview of the key carer support services and is an essential information resource, especially for carers who are new to their role.


Carers …what you need to know (550 KB)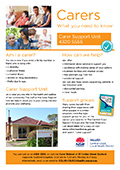 Carers provide on-going care for a relative or friend who is frail aged or has a chronic condition, disability, mental illness or drug & alcohol dependencies. This brochure is an introduction to services and supports.
The Carer Support Unit is guided by the Carers (Recognition) Act 2010 and the NSW Carers Charter and the National Carer Strategy.

Carers NSW is the peak body organisation for carers. Membership to Carers NSW is free for carers.

NSW Health has carer information and resources including information on an e-Carer learning package for health service staff.
Support groups and services directory
Use this directory to make contact with an appropriate support group or service.
To add a support group, provide feedback or request a hard copy of the directory contact the Carer Support Unit.