The Executive Leadership Team provides strategic direction and leadership for Central Coast Local Health District (the District) aligned with the District's strategic vision of 'healthy people – vibrant community'.
Together with the District's Board, the Executive Leadership Team drives the strategic priority of 'Caring for the Coast' as an intrinsic part of the organisation's culture.
Whether it is promoting preventative health measures, delivering community based care or caring for the many people who spend time in our hospitals, at every point of every service we provide our key strategic priorities of 'Caring for our patients, our staff, our community, our resources and our future' guide what we do.
Scott has held leadership roles in health in both private and public health systems spanning across two decades. Having been raised in country NSW he understands the highly complex landscape of the health care environment and the unique challenges of health care delivery in Australia. He is passionately motivated every day to head up improving health outcomes for the community through authentic engagement, strong collaboration with clinicians, strategic partnerships and fostering and leading innovation.
Acting Executive Director Acute Services
Ron has commenced as acting Executive Director, Acute Care Services, while the recruitment process is underway to appoint to this role ongoing.
Acting District Director Community Wellbeing and Allied Health
Jenny has commenced as Acting District Director, Community Wellbeing and Allied Health while the recruitment process is underway to appoint to this role ongoing.
District Director Medical Services
Steevie has over 20 years of experience in medicine and Medical Administration. His career has spanned roles within Health such as Clinical Superintendent, Medical Advisor, Director of Medical Services, Senior Policy Adviser, Manager Clinical Services Planning, A/Deputy Chief Health Officer and A/Director Centre for Health Protection, and General Manager. He has also worked with universities as Clinical Senior Lecturer, Professor, Associate Dean and Head of Student Matters, and Acting Dean, School of Medicine.
Steevie holds a Bachelor of Medicine and Bachelor of Surgery from the University of Sydney, is a Fellow, Preceptor and Supervisor with the Royal Australian College of Medical Administrators.
In his current role as District Director Medical Services, Steevie provides leadership in clinical service planning and models of care, and profession-specific leadership of the medical workforce. He also contributes expert input into the deployment of medical staff and medico-legal matters, and oversees medical workforce education, medical credentialing and scope of practice.
District Director of Nursing and Midwifery
Lynne is a Registered Nurse with 35 years of experience. This includes midwifery training in NSW and experience working across many clinical areas including surgery, medical, critical care, subacute and aged care.
Over the last 14 years Lynne has worked in senior nursing/executive leadership roles across New South Wales, ACT and Victoria. She has completed tertiary studies and holds a Masters of Enterprise – Executive from The University of Melbourne.
In her current role, Lynn provides executive leadership to the nursing and midwifery professions across the Central Coast Local Health District, ensuring that staff provide quality care to our patients and community. Her role also ensures that workforce planning and effective people management strategies are in place, and that continuous improvement and excellent clinical care is encouraged at all times.
District Director Asset Management, Finance & Procurement
Steven has worked in financial and business management in both the public and not-for-profit sectors for more than 25 years. His experience ranges from pure policy as the Director of Standing Committees with the Legislative Council, through to CFO of several NSW Health services. He has also been on the Board of the Health Service Association.
Steven holds an Economics degree (Sydney), Masters in Environmental Law (Sydney) and a Master of Business Administration (MBA) (Accounting) (Sth Aust).
He is also a Certified Practicing Accountant (CPA), qualified by the Chartered Institute of Management Accountants (CIMA) and Institute of Public Accountants (IPA), as well as graduate of the Australian Institute of Company Directors.
Steven has a passion for delivering well-managed and efficient business outcomes.
As the Executive Director, Asset Management, Finance and Procurement, he is responsible for providing effective overall leadership and management of finance, assets, fleet and procurement functions across Central Coast Local Health District.
Acting District Director Information Communications & Technology (ICT)
Ann has over 25 years of experience in the health sector across the public sector, private hospitals, research and has worked within NSW Health for 18 years, in key ICT leadership roles within Northern Sydney Local Health District and Central Coast Local Health District. Ann has strong field experience leading cross functional teams to design and implement multi-faceted change and digital transformation programs, in particular, the implementation of the electronic medical record.
Ann holds a Bachelor of Business in Health Administration, Health Information Management, Marketing and a recent certification in Public Sector Management.
In her current role as Acting District Director of ICT, Ann leads, plans, and manages ICT service delivery at both the Central Coast and Northern Sydney Local Health Districts. This includes operationalising the Digital Health Strategy and related priorities, as well as building and maintaining effective strategic relationships across the NSW Health system and external partners to achieve high value outcomes.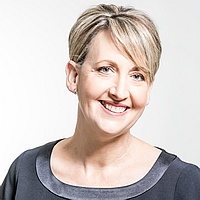 District Director Quality, Strategy and Improvement
Fiona has more than 30 years' experience with CCLHD. Most recently she has been a driving force behind reshaping our patient services, facilities and governance frameworks.
In her previous role as Manager of CCLHD Redevelopment Program, she oversaw the major transformations of Gosford and Wyong hospital.
She has also led safety and quality improvements for our organisation in other previous roles including: Manager Clinical Governance, Acting Manager Quality Unit and Manager Clinical Redesign.
Fiona has a clinical background. She began her career with us as a registered nurse in 1986 and went on to hold many senior nursing roles. Fiona has completed tertiary studies including a Bachelor of Nursing and Master of Business & Technology – from the University of New South Wales.
In the newly established role of District Director Quality, Strategy and Improvement for CCLHD, Fiona is responsible for leading, coordinating and managing the clinical governance, improvement and strategic development functions of CCLHD, providing advice to the Chief Executive, Board and leadership teams.
Her directorate will drive and enable the delivery of key initiatives concerning strategic and operational planning by developing and supporting improvement, research and innovative service provision to deliver high quality, safe patient care, for the best possible value.
District Director Workforce and Culture
Sandra has an extensive background in managing workforce services, risk mitigation, industrial relations and human resource (HR) needs in both the public and private sectors.
She completed her tertiary studies at the University of Melbourne before beginning her HR career in the private sector.  She transitioned into public health in 2014; initially working with QLD Health before moving to NSW Health in 2018.
In her role as District Director of Workforce and Culture, Sandra leads a team responsible for developing workforce programs, functions and initiatives; developing capacity in people management; and improving the workplace performance and engagement of all employees in line with CCLHD strategic, clinical, corporate and workforce plans.  Her directorate also provides strategic HR guidance from manager to Board level with the aim of supporting positive employee and industrial relations