Kylie, Perioperative Nurse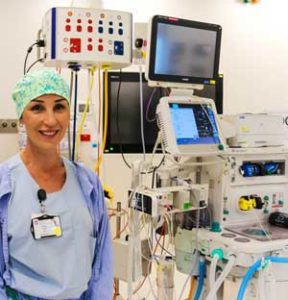 Kylie joined the Gosford Hospital team in 2016 and has never looked back.
For Kylie, it's a job that's rewarding and challenging in all the right ways.
"It's really a great place to work. The staff on the floor are great. Everyone is friendly," said Kylie.
Being part of the patient journey and present to witness an outcome or solution is something she considers a privilege.
"I find surgery fascinating. It's one thing to know about the anatomy, but to actually see it, is incredible," Kylie explains.
"The feeling when you witness what has been done to relieve a patient of their pain is something I can't put into words."
Kylie admits it's not the path she had originally planned on taking but now, she couldn't imagine doing anything else.
"I was trained up by some really great senior nurses and their support is incredible.
"I feel supported in my own development not just by those on the floor but with management."
Kylie also puts her career satisfaction down to room to grow, and the opportunities she's enjoyed taking on relief roles.
"This is a big broad system, with lots of educational opportunities, new positions to discover along the way and solid hours, I know I have confirmed work."
Danielle, Patient Support Assistant (PSA)
Danielle has been a PSA at Wyong Hospital since 2014 after commencing work with Central Coast Local Health District on a casual basis the previous year.
She's the type of person described by colleagues as a privilege to work with and recently wrapped up a stint at the Special Health Accommodation (SHA) in Gosford for COVID-positive community members.
"I was a little reluctant to take the job at first because of the travel and the isolation I had previously felt working in Wyong Hospital's COVID ward but I enjoyed every minute of my time there." Danielle recalls.
The team work was a stand-out, with Danielle amazed by the effective collaboration between nurses, administration staff and security.
"We were like a well-oiled machine. Almost like we'd been working together for many years," she said.
An average day for Danielle would start at 5.30am cleaning, re-stocking PPE and essential needs and assisting with deliveries.
"The job was physically demanding with the lifting and flipping of mattresses so they could be steam-cleaned, the moving of fridges and furniture, as well as the copious amounts of linen and waste that needed to be taken to the appropriate disposal units. It also got very hot, due to the wearing of PPE," she explained.
Despite the challenges of the job, Danielle made the best of it and went out of her way to make others smile.
"I would often wear odd football socks or brightly coloured shoes and dress up on special occasions like Halloween, Christmas and New Year's Eve".
Danielle takes the same approach working in the hospital.
"Working as a PSA is extremely rewarding," she says.
"I get so much joy from making sure that my staff, patients and clients are happy and content.
"If I can listen to their problems or make them smile or allow them to feel worthwhile then my job is a happy one."
Rebecca, Executive Assistant to the Director of Nursing and Midwifery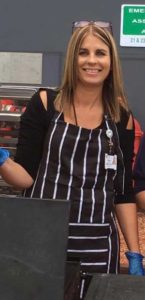 When Rebecca was offered a job as an office clerk in the supply department at Gosford Hospital 33 years ago she was also weighing up an offer with a real estate agency and a position as a dental nurse. She took the office clerk job and has never looked back.
"My mum had previously worked at Gosford Hospital and she spoke to me about all the advantages of working there. Things like long service leave, holidays and sick leave and job security," Bec recalls.
Over the following years, Bec held various positions at the hospital until 2001 when she became Executive Assistant to the Director of Nursing and Midwifery, Gosford and Woy Woy Hospitals. It's a job she still holds and loves, to this day.
For Bec, one of the highlights of the job is keeping morale up among staff.
"I love organising the Christmas Decorations Competition, International Nurses Day, CCLHD Balls and Staff Appreciation days. Earlier on we used to hold Gosford Idol which was a talent quest for nursing staff held at Gosford RSL Club!"
With a career spanning more than three decades, she's seen a lot of change and experienced many milestones, including moving from the old hospital building in 2005 that is now demolished into the current nursing administration area on level 4.
"I never thought when I started that I would still be here 33 years later," said Bec.
"I have made lifelong friendships here and it's the people who make the difference. Central Coast Local Health District is a great place to work and the people you will meet are amazing."