Central Coast Local Health District (the District) is taking the opportunity to celebrate the achievements of its female workforce on International Women's Day (March 8).
Gosford Hospital Redevelopment Manager Fiona Wilkinson is just one of the District's many inspiring female leaders.
The former nurse is breaking gender stereotypes in what remains a male-dominated industry, overseeing the $348 million Gosford Hospital project and $35.5 million car park construction.
With the new 11-storey tower set to open its doors to the public later this year, Fiona said she was proud of her role in the hospital's major transformation.
"I am passionate about driving positive change and this has been a colossal undertaking to deliver a whole range of new and upgraded facilities," she said.
"My aim is to improve processes for staff, enhance experiences and outcomes for patients and offer improved services for the wider community."
Fiona has led the redevelopment project since it outset in 2014 and is responsible for managing a team of up to 200 change management stakeholders.
She has been involved in everything from strategic planning to key decision-making and coordinating moves for hundreds of staff without service disruption.
"Having trained and worked as a registered nurse for many years before transitioning into operational management has given me a unique insight," she said.
"I can truly say I have lived and breathed this project for the last four years and it is really rewarding knowing I am part of something that will improve our health services and facilities for the Central Coast.
"I am looking forward to the day when I can look back and say I helped build that."
Fiona said she believes the key to being a good leader is to educate, support and inspire the people around you to achieve the best they can.
"I live by the motto that we should learn something new from someone else, every day," she said.
"The redevelopment has been a massive team effort and I couldn't do it without the input and support of all the staff, patients and community."
Did you know? Central Coast Local Health District employs more than 4,800 females which is more than 77 per cent of its workforce.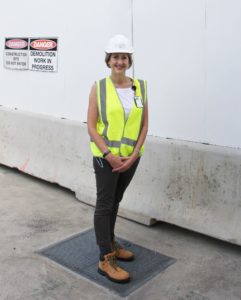 (Image description: Redevelopment Manager Fiona Wilkinson)